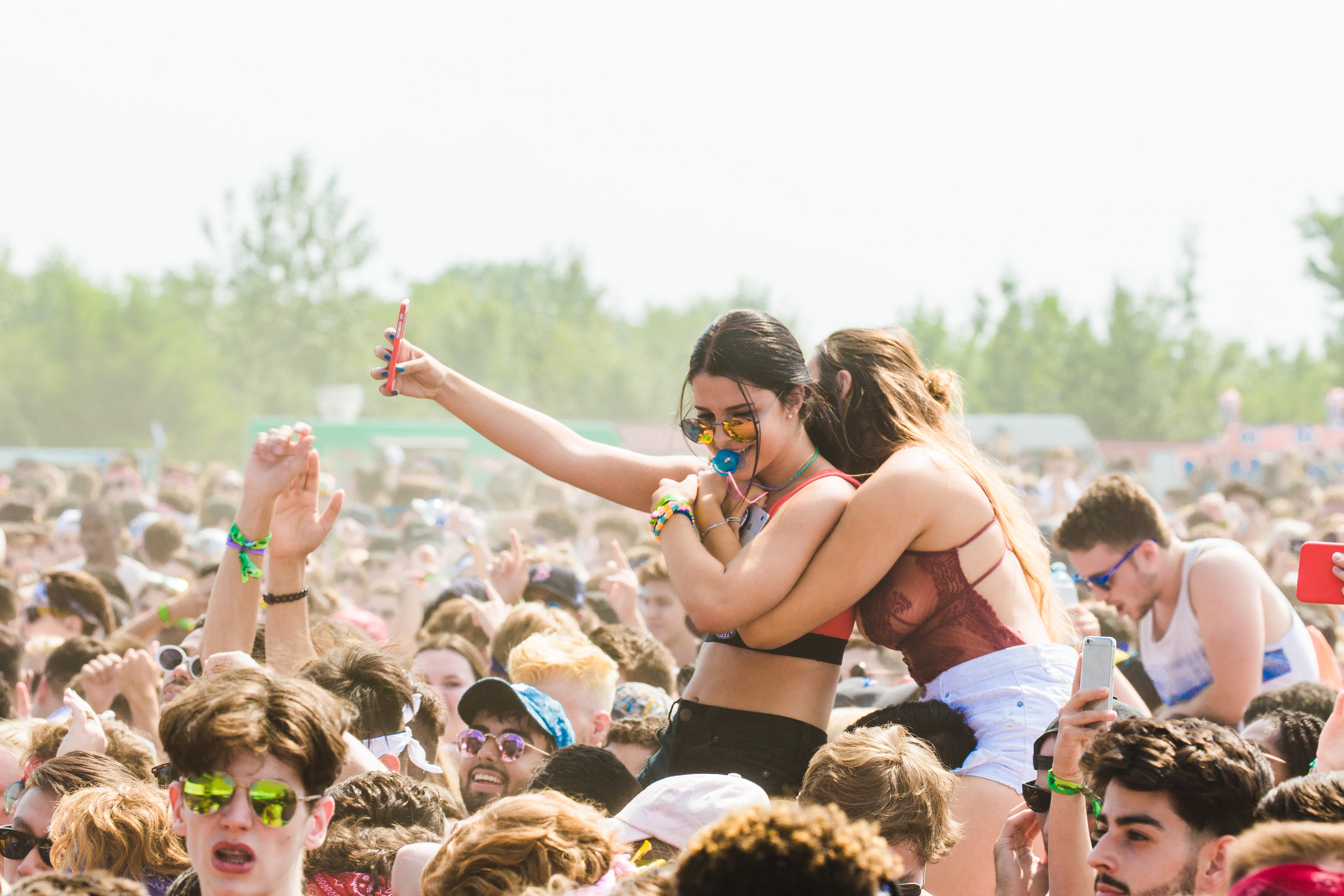 It's music festival season! Event calendars in Oregon, Washington, California, Idaho, Colorado, the Midwest—EVERYWHERE—are promoting strawberry fields of music and al fresco fun, with all the attendant hiking, riding, and camping adventure you can cram into a road trip.
How do you get down and funky all summer, without getting funky down there? You want to promote all of the good bacteria, and eliminate the unpleasant side effects associated with a good ol' roadtrip. No one wants to contract a UTI from hours of sitting and driving, days of tent camping, and long afternoons in damp bathing suit bottoms. Travel is good for the body and soul... But where our vulvovaginal bacterial flora is concerned: sitting for long stretches, a change in your regular diet, or just dancing and sweating through three days of Lollapalooza can tilt the balance of the good stuff, and encourage vaginal discomfort.
Prepare to Prevent
The best way to ditch the itch is to be prepared. Whether you are glamming it up old school, or pitching a tent, you don't want to rely upon free hotel soaps, or suspect gas station offerings to cleanse your feminine parts. When you want more than water, eschew the scented so-called beauty bar for something fragrance free, glycerin free, and paraben free, like Healthy Hoohoo's Gentle Feminine Wash. If you opt for the fragrance-filled beauty bar dripping with toxins and harsh chemicals, your vagina may be subject to a pH imbalance😳. Healthy Hoohoo's Gentle Feminine Wash is pH balanced and formulated with zero harsh chemicals to help maintain a healthy vaginal environment. No access to running water for a shower? Carry a pouch of Healthy Hoohoo's Individually Wrapped Feminine Wipes, and restore the balance of your personal ecosystem anytime, anywhere. Our travel-friendly personal wipes remove odor-causing bacteria while cleansing, soothing and moisturizing. Having the goods requires a little planning, though. Healthy Hoohoo's Individually Wrapped Feminine Wipes are only available on our website. 
Music Festival Packing List Essentials
Reusable water bottle: This is important because you can monitor how much water you're drinking and prevent dehydration. Your vagina can become dehydrated and can cause itchiness, burning, or pain, and can ultimately lead to a yeast infection. Nobody wants a yeast infection while swaying to Lana del Rey! For tips on increasing hydration levels, read our blog here.
Extra underwear/swimsuits: Between the nonstop dancing and the higher temps, it's typically HOT at music festivals, which naturally causes the body to sweat. Your vulva is also subject to sweating. When you have a moist, sweaty vaginal environment, you're more prone to optimal fungus growing conditions, which can lead to a yeast infection. Focus on changing out of damp bottoms as quickly as possible and keep her dry. Are you wearing healthy underpants? Check out our blog for the winning materials you should look for when buying underpants.
Light and flowy dresses: This also fits under the "keep her dry" tip. When you're back at your campsite and find yourself staring up at the stars, ditch those underpants and let her breathe. We also recommend going to sleep sans panties to further allow your vagina to breathe. For more on this summer specific condition, check out our top 5 Healthy Hoohoo tips for summer.
Healthy Hoohoo's Individually Wrapped Feminine Wipes: Cleanse with benefits, whether you have access to water or not. Healthy Hoohoo's Individually Wrapped Feminine Wipes are made from plant-based fibers and help maintain proper pH balance, while removing odor-causing bacteria. 
Menstrual care supplies: You can never be too prepared. If your cycle decides to surprise you, there may not be easy access to the products you prefer. Whether Aunt Flow makes her appearance or not, at least you can rest easy. And who knows, your gal pal may be thanking you for planning ahead.
Probiotics: Between the stress of not sleeping in your own bed and all the sugar your body has taken in from that funnel cake, your vaginal health will be impacted. When there's too much sugar in the body, the immune system is unable to ward off any bad bacteria, which could lead to an overgrowth of yeast in the vagina. This could result in a yeast or bacterial infection. Probiotics help regulate your system by repopulating the vaginal lining super power lactobaccili, which prevent the vagina from infection. For more of an understanding on what sugar really does to the body, read our blog post on sugar.
Fun First: Upcoming Music Festivals
From psychedelic funk to bluegrass, all music sounds better outdoors. Check out Music Festival Wizard to find out where you can get your groupie on from April through October. And for a smattering of events you can squeeze in between conferences, or on that trip back home to see relatives, take a look at:
This music festival season, travel like you're curious, dance barefoot around a fire, swim in a river, hike in the dirt, and sleep in plain sight under the cosmos. Your body and your spirit are self-renewing, given the right environment. And as a self-respecting festival vagabond, when you want to wash with more than water, be sure to have some hoohoo luv in your pack for gentle care for down there®.
This article was first published on June 18th, 2021.
Comments (0)